My housemate has a coffee maker. Last week I heard extraordinary sounds coming from this most ordinary appliance. The gurgles of water passing through the filter gave way to longer notes like a moan but with a twist of sound that turned toward elation. A whole range of feeling flowed from those few sounds coming from the coffee maker.
Sounds like whale song filled my kitchen.
And it is the season for whale song to guide us to our depths and invite us then to surface. In March we are not quite in winter but not yet arrived as spring. There can be storms but also sudden days of sun and where I live that means mud, that messy mix of earth and water. Our hearts may rise one day like the whale surfacing to play, but the next slip back into the watery deep called by a song that holds longings and emotions too complex to be easily described.  We are between seasons, diving and rising like whales to move with the shifting currents.
And a whale appears on Tarot Roots of Asia's 10 of Cups, which is the minor card associated with this new moon day of Saturday, March 13th (the exact moment was 5:21am ET).
In the Tarot tradition, the 10 of Cups indicates simple pleasures and emotional connection, invites us to connect to  family that nurtures us (biological and/or chosen). The meaning is not complicated and it's hard to find a challenging aspect. But the whale in the Tarot Roots of Asia 10 of Cups brings an added layer of, yes, depth where, along with enjoying the 10 of Cups's gifts, we also acknowledge what is below the happiness or obscured by the simplicity of a pleasant image.  
From Tarot Roots of Asia
This has me contemplating our pandemic emergence. We are longing to be out and connecting with each other in person. When this time arrives, it will be delightful! And underneath the delight for so many of us there will be loss: of loved ones, jobs, health, more. If we seek to evade this reality, our delight will be shallow. We might find that we don't enjoy ourselves as much as we thought we would. The acknowledgement of the full picture is a counter-intuitive key to our happiness.  
And this acknowledgement is also important to walking this moonth's path of The Moon, the Tarot's archetype of mystery. On the Moon's path, we flow with our emotions, follow our intuition, activate our imaginations, and are aware of our instincts. We are not in control on the Moon's path; the waters will flow where they will.
How can we work with all this water? Our model this moonth adds some balance to all the water of the moonth by calling in fire, new energy, and focused vision. The Queen of Wands channels her energy and her vision into bringing forth positive relations, projects, and/or works of art that uplift her people. She is not swamped by the waters but stands on top of them to nurture the positive.
On the astrological Wheel of Year of Tarot correspondences, the Queen of Wands is a bridge between one year and the next. She guides us through these last few days of the whole astrological year, and ushers us into the new one beginning with the Spring Equinox on March 20th. She then rules with the Emperor through the first weeks of the new year and the tipping toward greater light as the days lengthen.
In the Dark Goddess Tarot, Cerridwen, the Welsh Goddess of Transformation, takes the place of the Queen of Wands. Deck creator Ellen Lorenzi-Prince gives us Cerridwen's advice to us as: Craft anew with the bones of the old.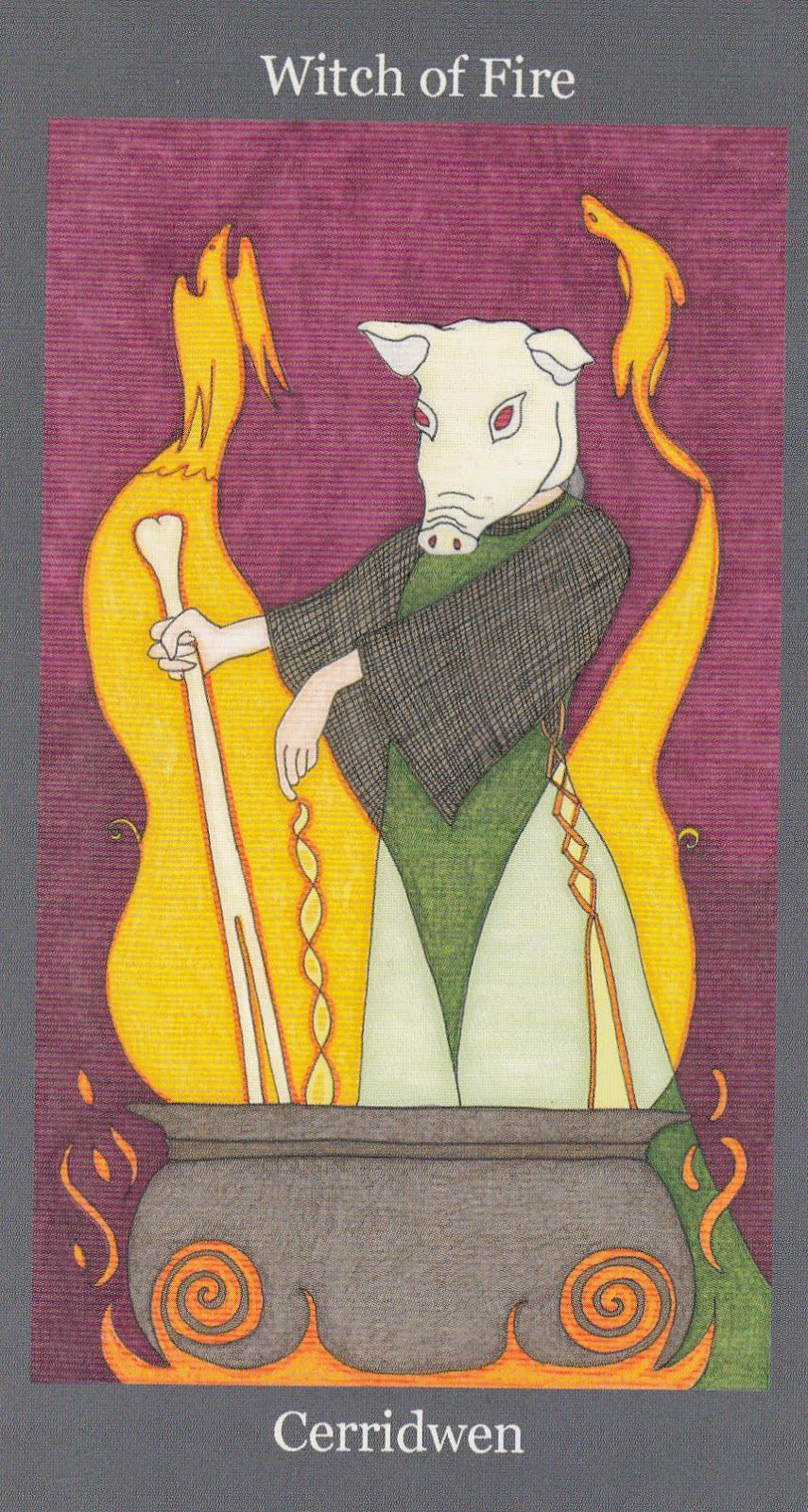 From the Dark Goddess Tarot
The pandemic stripped our old lives down to the bone, attunded us to strange new songs. The soul work of now is not to walk away from the truenes, the strangeness of this moment, but instead to transform what remains into new ways of being and structures that are equitable, just, sustainable, and, yes, joyful. 
This moonth's questions for reflection / reading are offered to support your flowing with and rising from the depths:
DEPTHS: What is being called from my depths?
SURFACE: How can I bring it to the surface? 
EMERGENCE: What can come forth if I shine a light on what's surfacing?
I do offer this as an e-reading in my collaborative initiative format for $23.  Sign up with Pay Pal or email me about sending a check. When I receive notification, I'll be in touch to let you know about when to expect to receive your reading by email. I generally have openings to do these readings on Mondays and Saturdays.