A new moon arrives today/Wednesday, October 6th (exact at 7:05am ET) inviting us to travel the pathway of Justice by passing through the pierced heart of the Three of Swords.
The aspect of Justice these initiating energies call us to this moonth is truth telling. An inspiring guide for this work is Sojourner Truth who represents Justice in the Pentimento Tarot. In iconic images from the 17th century to today, Justice's truth is represented with a sword, but Sojourner Truth's sword is her own voice.
Born an enslaved person in New York state in 1797, she liberated herself from her master and then sued to free her son who had been illegally sold to a plantation in Alabama. She was the first black woman to win a legal case in the United States. In 1851 at the Women's Rights Convention held in Akron, Ohio, Truth delivered not only her most famous speech but also one of the most important of the abolitionist and women's rights movements. Popularly known as the "Ain't I a Woman" speech, this southern-sounding phrase was unlikely to reflect Truth's real language and cadence, but the ideas are clearly hers:
Then that little man in black there, he says women can't have as much rights as men, 'cause Christ wasn't a woman! Where did your Christ come from? Where did your Christ come from? From God and a woman! Man had nothing to do with Him.
Truth states what is apparent but not acknowledged because it challenges the status quo and systems of power. Today we hear echoes of Truth in:
​​Frances Haugen, the Facebook whistleblower whose documents show Facebook choosing profit over public safety by promoting the most incendiary posts and images harmful to young girls.

Greta Thunberg, Adriana Calderón, Farzana Faruk Jhumu and Eric Njuguna who are pointing us to the reality that all can see: climate change is here and it is a code red for humanity.

Mothers of the Movement who speak and share their grief about their African American children being killed by the police and gun violence.
The truths told by these 3 people / groups bring us to our passage through the Three of Swords.
Most people receiving the iconic Three of Swords card with its pierced heart under a rainy sky are dismayed. It's one of those cards labeled as "bad" and to be avoided, but I find it to be one of—if not the most—healing cards in the deck. 
a 1909 card scanned by Holly Voley and retrieved from Sacred Texts.
Deck available from US Games
The suit of Swords association with the element of air connects it to the workings of the mind, the power of the intellect, and the analysis of the rational. It is with the mind we perceive the difficult truths of our lives and in the world. Only once the truth is acknowledged in the mind, can it be brought to the heart for healing. 
In the image, the rain is suggestive of tears. Tears can make people uncomfortable. Some so much so they want the tears to stop, but the tears are not the source of the pain. The tears instead are a healthy release value for the emotion built up inside by recognition of the truth. The tears are a release that is healthy for the heart. The tears help others to see and acknowledge the sorrow and grief. Tears others see help private pain to be collectively held.
Tears express a literal release of pain, and also serve as a symbol for different kinds of release. As we walk the path of Justice this moonth attending to truths both painful and pleasurable in our own and collective lives, we may find it supportive to do a practice consistently that connects heart and mind such as journaling. 
In Writing as a Way of Healing, Louise DeSalvo describes the kind of journaling that leads to real release as writing that combines detailed description of troubling events with writing about the feelings flowing from the events. Here we see the combination of truth telling by the mind (the detailed description of what happened) with the work of the heart (naming the feelings). Here are a few examples of her 14 Do's and Don't for the practice:
Do's
Write about issues you're currently living with, something you're thinking or dreaming about constantly, a trauma you've never disclosed or discussed or resolved.

Write about what happened. Write, too, about feelings about what happened. What do you feel? Why do you feel this way? Link events with feelings.

Expect, initially, that in writing in this way you will have complex and appropriately difficult feelings. Make sure you get support if you need to.
Don'ts
Don't use writing as a way of complaining. Use it, instead, to discover how and why you feel as you do. Simply complaining or venting will probably make you feel worse.
DeSalvo's process is inspired by the work of academic James Pennebaker whose research found that just 4 days of regular writing for just 15 minutes improved physical and mental health.
The heart flowing with grief rather than holding it in to ferment and fester is a healing heart. And as this heart flows with grief it also is open to the flow of other emotions: happiness, curiosity, joy. After loss and trauma the way back to joy must pass through grief.
The Queen of Swords is our final guiding card of the moonth. This Queen has already traveled through loss and difficulty. They have expanded their heart by letting painful truths flow through and this has attuned them to the sorrows of others.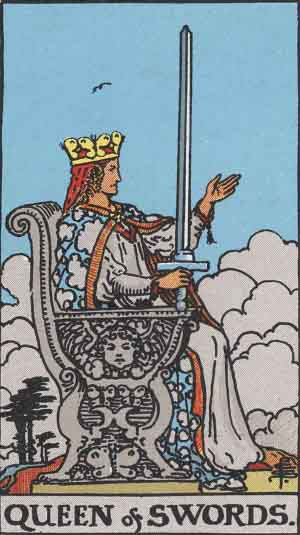 a 1909 card scanned by Holly Voley and retrieved from Sacred Texts. Deck available from US Games
Writing about the iconic Rider Waite Smith image, Rachel Pollack points out that the Queen's left hand is reaching out to "hold others' pain as a world ends." This Queen "does not mourn a personal loss so much as all those who have suffered in hard times." While being dedicated to tending sorrow, the butterflies on the Queen of Swords' crown signify a mind directed toward transformation of the old to the new. This Queen enacts the work of Justice by tending grief as a catalyst of change. 
A prophetic Queen of Swords for our times is media activist and poet Malkia Devich Cyril. In the essay To Give Your Hands to Freedom,  First Give Them to Grief from Holding Change, they write:
Grounded grief is a vaccine against the morbid conditions bred by white supremacy, a patriarchy that has distorted our families and relationships, a concentration of wealth that has disconnected us from nature and directed everything brilliant and beautiful to profit. Only through the compassion and loneliness and love inherent in grief can we forge a world out of the fire that will not replicate old hierarchies, nor replace old gods with new ones that are just as arrogant and just as punitive.
On either side of change is loss. To reimagine and reshape the world, grief is the skill we need. 
The path, passage, and posture of this moonth call us not to be dismayed or paralyzed by the personal and collective pain of this world in transition. Instead we can hear a call to learn from the truth of this pain as it passes through—rather than stays inside of—us to be transformed into something new, as it connects us to others who grieve, as it opens up our hearts to grow and to love and to create the new.
To help you tend to heart and mind on the path of Justice this moonth you can use these questions for reflection and card play:
TRUTH: What truth calls to be attended to in my life this moonth? 
FLOW: How can I honor and flow with this truth?
ENACTING JUSTICE: What contribution can I make to enacting Justice as I flow with this truth through the moonth? 
I do offer this as an e-reading in my collaborative initiative format for $23.  Sign up with PayPal or email me about sending a check. When I receive notification, I'll be in touch to let you know about when to expect to receive your reading by email. I generally have openings to do these readings on Mondays and Saturdays.
And two offerings to mention related to the themes of the moonth: 
Love Letters to the Dead – Throughout October I will once again host Love Letters to Dead to create a container for sending messages to our Beloveds in the Beyond. The second letter writing room is coming up on October 13th. I offer this for no fee as part of my service and passion for tending a loving flow between the living and the dead. Feel free to pass this along to anyone you think might be interested.
Betwixt & Between Cyber Conference – I will be presenting Speak Soul to Soul: Communicating with the Beloved Dead as part of this day-long, super affordable event of Tarot and seasonal offerings. I'll be joining old friends like Nancy Antenucci and James Wells; excited about that! Also my Tarot Rosary for Contemplating or Meeting Death will be a gift for the first 78 people that register. Sign up soon if you'd like to see that offering.
Finally be sure to be on my list to receive this moonthly missives that come out around the new and full moons.